Bone Density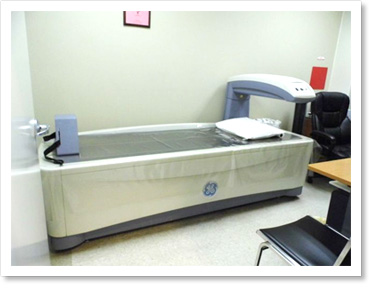 Also known as Dual energy X-ray Absorptiometry or DEXA, bone densitometry is the technology used to measure and monitor changes in bone density. The gradual loss of density weakens the bones and leads to fractures. This 15 minute scan is recommended for post menopausal women, people taking corticosteroids and thyroid medications, and those with certain other conditions. Many factors such as dietary habits and family history contribute to the development of this disease as well. This condition is called osteoporosis. A bone densitometer or better known as bone density can let patients know whether or not they have osteoporosis or if they are at risk for developing the disease. Bone Density scan uses ultra-low dose radiation, less than that used for a regular chest x-ray.
With the latest advanced technology available, we at Imperial Valley Family Care Medical Group will provide you with the best care possible. Our Dexa (dexa machine name) will provide us with accurate measurements to better treat you as an individual patient.
What you can expect
When you arrive to your appointment you will be greeted by our friendly staff. Our Certified Imaging Technologist will guide you into the exam room where she will ask you a couple of questions, thus verifying information (e.g. what medications you are taking and when your last exam was if you've had one).
During the comprehensive exam the patient lays comfortably on a padded table. Dexa machine scans hip and spine areas for loss of bone density.
Preparation for Exam
There is no special preparation for this exam. The patient will not need to undress for this scan.
Next Page